DONATIONS - WHAT WE NEED NOW
GIFT CARDS and/or CHECKS & CASH DONATIONS
If you can help in any way please send CHECKS (made out to Consider The Homeless) or gift cards directly to:
CONSIDER THE HOMELESS
PO Box #2771
Berkeley, CA 94702 Attention: Barbara Brust
All cash donations will go towards gasoline, ingredients for soup and thrift shop purchases. The ingredients for every night's portion is now up to over $100.00 a night. The cost of providing this service, twice a week, continues to grow. Aside from the food we serve and the supplies we hand out, we also cover the cost of paper cups, spoons, napkins, fruit, etc... and we now serve over 100 a night.
---
DONATE on Facebook
Network for Good has partnered with Facebook and 100% of your donation through their DONATE buttons comes to us.
You will see these buttons on our Facebook Page by some of the postings. You can even start one on your own page.
See instructions here
By adding a donate button to your post, friends will be able to donate to Consider The Homeless directly on Facebook. No fees for donations to nonprofits. (we like this...)
---
PAYPAL
You can also make donations via PayPal by clicking the button below (you do not need a PayPal account to use this service)
To make a donation without a PayPal account, click on button above. When you come to the PayPal page, about half way down, above this graphic …



… and look for "Don't have a PayPal account? Use … " Click on "Continue" and fill in your information.
---
OUR "WISH LIST" of supplies on Amazon.com
We have registered a "wish list" you can use to purchase some of the things we almost always need, or supplies we are very low on. Please tak a look and see if you can help us with an Amazon delivery
You can go to Amazon.com and search for:
CONSIDER THE HOMELESS
or click here to be magically transported.
THANK YOU in advance for supporting our work.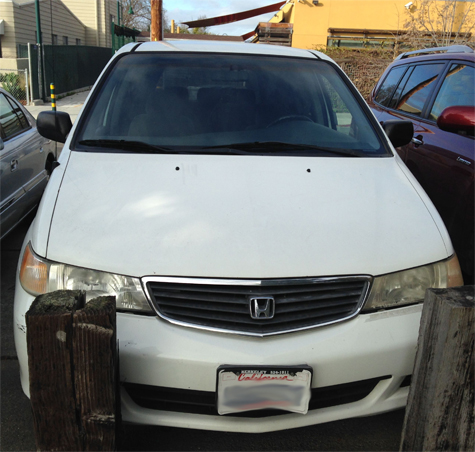 El Diablo Blanco
Thank you Dorothy Day House of Berkeley
SUPPLIES
If you have any spare quantities of the following items – mostly men's – please send an email to: Info@ConsiderTheHomeless.org
and we will arrange for a pick-up or let you know how/where you can deliver.
** Please include in the email a description of what you want to donate . Be as specific as possible in your list. We will get back to you as soon as possible with further instructions. (Updated 12-31-19)
WHAT YOUR DONATION COULD BRING
$100 contribution =
13 pairs of pants
1 warm bulky 3X jacket
2 pairs of long johns
4 T shirts
6 warm long sleeve shirts
3 pairs of sweat pants

[

These figures come from an actual purchase.

]
Above is only a partial list of the type of supplies that we have distributed to date. If you think you have something we could use, just ask!
We are always grateful for the products we need to continue serving soup
• 12oz paper cups for hot soup
• Plastic soup spoons
• Napkins or paper towels
• Bottled water
• Bags of hard candy
• Fresh fruit – Please only if you can get us enough to at least feed 80,
we serve over 100 a night (only Wed, Sat, or daytime Thurs and Sun.)
• Sandwich-sized zip-lock baggies
• Grocery gift cards
And, anything else you think we could use.
Please do not bring any soaps, toothpaste, or over-the-counter drugs. We have very limited space to store the supplies and have chosen to not distribute this type of personal product. Toothbrushes are ok.
WISH LIST
Bookkeeper familiar with Quickbooks Online
iMac Laptop with any version of OS X 10.x
---
Sign Up on our Email List: Get notifications of important events, updates and new postings on our site, and other information relevant to the work of Consider The Homeless! In order for this form to be sent, you must complete sections with an *
Copyright © 2015 - 2020 Consider The Homeless!
Website Design